Marketing used to be dominated by SEO and SEM tactics but since the dawn of the social media era, users have slowed down on downloading apps and have adapted to the world of messaging as their preferred way to get key info on-demand. 
Some of the world's most popular consumer brands have begun making the move towards chatbots, from car dealers to fashion stores. One sector that hasn't quite tapped into the potential of chatbots yet is restaurants. 
The restaurant industry is valued at approximately US $2.2 Trillion globally and still has potential for massive growth. Larger restaurant chains have established themselves as pioneers with their Facebook marketing efforts but small and medium restaurants still have some catching up to do.
Chatbots can provide you with that unique value to make your brand standout from the rest. With chatbots, your customers no longer need to make a call to reserve a table, wait for staff to attend to them or wait in line for tables to free up.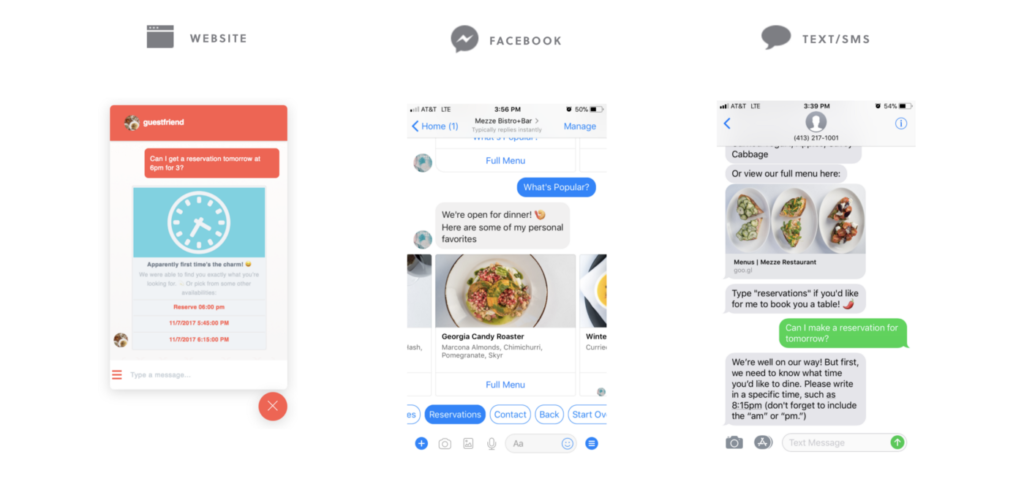 Why You Should Care 
What are your restaurant's main business goals this year? If they include any of the following:
Get more patrons in the door

Keep people coming back

Create a seamless, enjoyable customer experience

Advertise promotions more widely

Gather leads for catering and events
It's time you looked into getting a chatbot. Bots can help you do all of the above 24/7 with no downtime. They provide a smooth, seamless chat experience for past and potential patrons at incredible scale.
A chatbot is the perfect time saving tool for your customers & customer service reps, automating tasks such as answering FAQs, making reservations and processing order payments. These automations will take place 24/7 around the clock with no down-time making your chatbot a great tool to drive extra revenue to your restaurant. 
6 Ways Restaurants Can Effectively Use Chatbots
It is only a matter of time before chatbots in restaurants make their way to the forefront. Designed to communicate in a meaningful manner with customers, chatbots contain the best ingredients to enhance your customer service recipe. Here are a few ways a chatbot can help your restaurant.
Manage Reservations
Human error means orders can, and will, go wrong from time to time but with a chatbot deployed on your website, app, social media accounts, or a phone system, you'll be able to interact with customers quickly. 
Chatbots can perform these tedious tasks with the guarantee that orders will be 100% accurate.
Simplify Delivery and Takeaway
Ordering takeaway can be a difficult process for customers. But with chatbots, the experience is quick and simple. They can make their order with your restaurant on Facebook or via your website's chat window.
Orders can be done with payments collected via your chatbot or with a Cash-On-Delivery system.
Track The Status Of Orders
A chatbot has the ability to track the user's order and provide customers with an estimated time of delivery. Your chatbot can also present a user with their order history. 
Serve Customers 24/7/365
Did you know that a well-designed chatbot can answer up to 80% of routine questions?
Allow your current and potential patrons to get info about your restaurant (hours, menus, address, etc.) on their own time, 24/7/365—and without any of your staff having to lift a finger. 
Personalized Marketing
By using previous purchase information, a chatbot can advise customers of dishes they may not know about or advise them on the best drink to match their preferred meal.
Make Your Bot Bilingual
Is your restaurant visited by tourists, or other patrons who speak multiple languages? You can have your bot appear to users in their chosen language. 
The Takeaway
Chatbots are adept at building engagement with customers, be it online or in your restaurant. They can make recommendations, take orders, offer special deals, and answer any questions or concerns a customer has through a fun, conversational interface. 
The process is quick, easy, and will positively impact your overall customer experience and bottom line. Contact us today to get started on a chatbot for your restaurant!